Small wrist tattoos are some of the most elegant pieces of ink. They are one of a kind, and truly, the most vulernable (yet simplistic) tattoo styles. You literally wear them on your sleeves. Moreover, unlike back or chest tattoos, these tattoos can be seen on you at all times. So if you really want a tattoo that can be seen at all the times and pop out in every picture you take, you can't go wrong with a wrist tattoo. Additionally, it's important to remember that most people get tattoos because it resembles something close to their heart. What better place to get a profound tattoo than on your own wrist; The simplest and yet most viewable tattoo type of them all.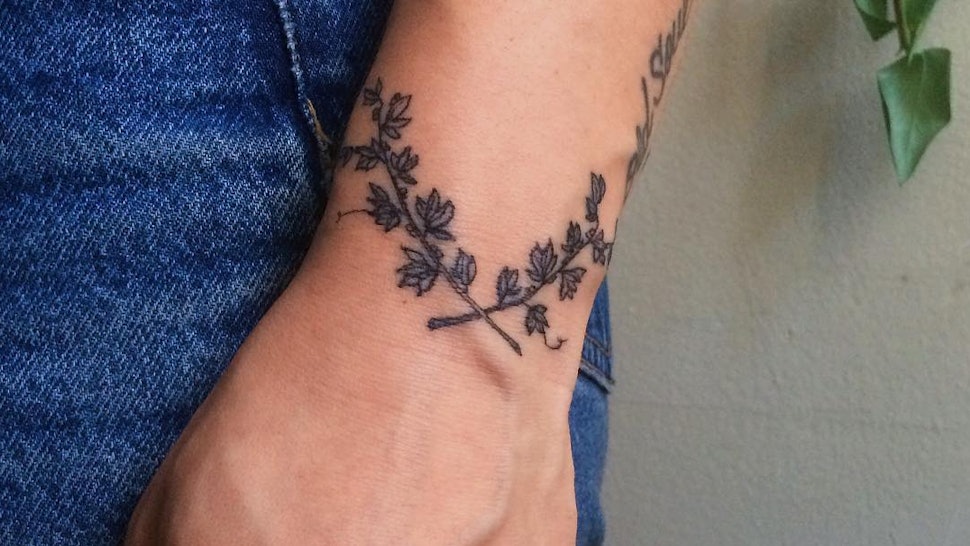 Wrists provide a small, yet delicate canvas to work on. This poetic balance of vulnerability and boldness makes the wrist a perfect place for anyone who wants to subtly, yet confident show their identity through stunning tattoos without being too extra.
Even-though the wrist might be one the the smallest areas of our bodies, people can get extremely creative with what they want to put there. One could get a tattoo which wraps around them, extends up till their arms, or perhaps, even a tattoo which extends up till their pecs. The possibilities are truly endless. So go out there and get a tattoo yourself!
The wrists are the perfect place for first-time tattoos. It's subtlety and delicateness makes it a tattoo you definitely won't regret later. While, at the same time, it's small size and yet important placement makes it a tattoo which won't won't get looked over either. Moreover, to the contrary of what your tender wrists show, wrist tattoos hurt the least. Most tattoo heads say that the wrist hurt less than any other body parts they have got inked. This makes your wrists the perfect canvas for your first tattoo.
Small Wrist Tattoos Ideas!
Get a Tiny Jet Plane Tattoo. If you are an avid traveler this is the perfect tattoo. Remind yourself to take a vacation every time you look down at your wrists!
Wrist Wrap Tattoo. Small wrists tattoos are all about simplicity. Get a simple tattoo which wraps around your wrist; almost like a permanent bracelet.
Multicoloured Mini Moon Tattoo. You could use custom colour gradients in this tattoo. Who said a simple tattoo can't use multiple colour! Bright up your boring arms with this tattoo.
Zodiac Sign Wrist Tattoo. If you are a zodiac nerd this is the perfect tattoo for you. What better way to let everyone know a little part of your identity than with a zodiac sign tattoo. Use this as an identity mark!
Got Your Small Wrist Tattoo? Here's How To Take Care Of Your Fresh Tattooed Skin
Now that you have gotten your colourful and subtle wrist tattoo it's time to disinfect your skin. Optimal skin-care is required after getting a tattoo –failing to do so could result in permanent skin damage.